Mother's Day is a time to celebrate your mom – a woman who has worked hard for you her son/daughter. It's also to show how thankful you are for her bringing you into this world. Everyone wants to find that perfect gift that shows Mom just how much she is loved and treasured. What many people don't realize is that the perfect gift doesn't always come from the store. Many mothers treasure the simple things – the gift of time and relaxation, someone else cleaning the house, or a special breakfast cooked just for her. Even a simple card with a message of love and thanks is enough to make your mom feel special. Even a card which if anyone wants to make one and doesn't have the supplies the library will be having a chance for students to make cards for there mothers.
To help our SBHS students who are struggling to find that perfect gift, the SBHS Library will have card-making supplies ready at lunch for the rest of the week! These supplies include cards that are blank inside – just waiting for a heartfelt message, cards that can be colored for that extra special personalized touch, and poems that can be used to tell your mom just how much she means to you.
We are also providing two recipes perfect for that breakfast-in-bed your mom is sure to love. The first recipe is Banana Bread Flapjacks and the second is Parmesan Egg-in-a-Hole. Bon Appétit!
Banana Bread Flapjacks (from Country Living)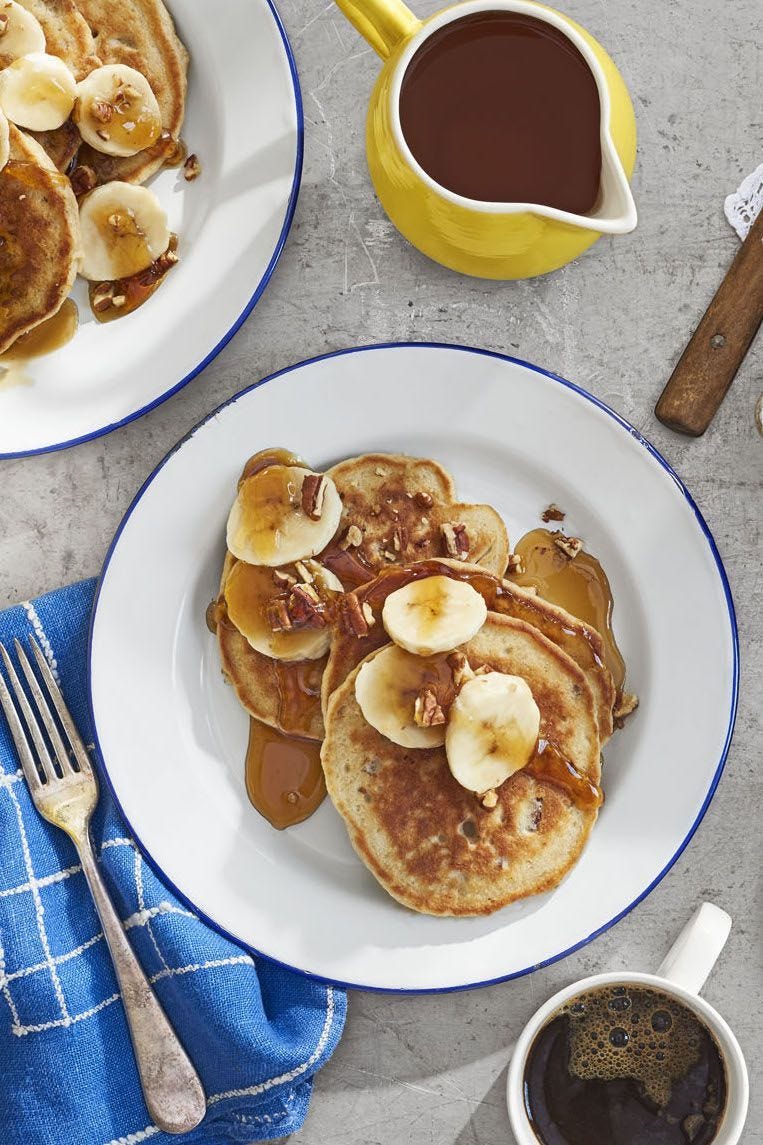 Ingredients:
2 c. all-purpose flour, spooned and leveled
1/2 c. finely chopped toasted pecans, plus more for serving
3 tbsp. packed brown sugar
1 1/2 tsp. baking powder
1 1/2 tsp. Kosher salt
1 tsp. baking soda
1 1/4 c. Buttermilk
1 c. mashed ripe banana (about 3 medium), plus slices for serving
2 large eggs
1/4 c. unsalted butter, melted, plus more for griddle
pure maple syrup, for serving
Directions:
Stir together flour, pecans, sugar, baking powder, salt, and baking soda in a bowl. Whisk together buttermilk, banana, eggs, and butter in a separate bowl. Add flour mixture to buttermilk mixture and stir until just combined.
Heat griddle or large nonstick skillet over medium heat; butter. Pour about 1/4 cup batter for each pancake on griddle. Cook until tops are covered with bubbles and edges look dry, 2 to 3 minutes. Turn and cook until plump and cooked through, 2 to 3 minutes. Place pancakes in a single layer on a baking sheet, and keep warm in a 175°F oven up to 30 minutes. Repeat with remaining batter.
Serve with maple syrup, toasted pecans, and sliced bananas.
Parmesan Egg-in-a-Hole (from Country Living)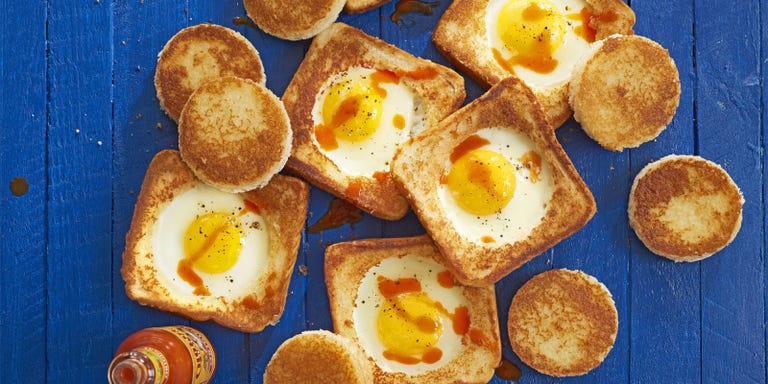 Ingredients:
1/3 c. mayonnaise
1/4 c. grated Parmesan cheese
6 slices Texas toast-style bread
6 large eggs
kosher salt and freshly ground pepper
hot sauce, optional
Directions:
Stir together mayonnaise and cheese in a bowl. Spread on both sides of each bread slice, dividing evenly. Cut a 3-inch circle from the center of each bread slice.
Heat a large nonstick skillet over medium heat. Working in batches, cook bread until golden brown on one side, 1 to 2 minutes. Turn and immediately crack an egg into the hole of each slice; season with salt and pepper. Reduce heat to medium-low and partially cover pan. Cook until eggs are set, about 3 to 4 minutes. Repeat with remaining bread and eggs. Cook bread rounds until golden, about 1 to 2 minutes per side.
Serve with hot sauce, if desired